Call

1-800-438-1880, Monday through Friday 8:30am to
4:30pm EST. 
Email

If you have a question or feedback, we'd love to hear it.
Mailing Address

Consumer Affairs
P.O. Box 32368
Charlotte, N.C. 28232
Frequently Asked Questions
Are your products gluten free?
Kettle Brand® Potato Chips are gluten free and certified by the Gluten-Free Certification Organization (GFCO).
Are your products safe to eat for people with peanut allergies?
All Kettle Brand potato chips are made in facilities that do not process peanuts and tree nuts.
Do the oils you use contain trans fat?
No. In fact, they never have and never will. At Kettle Brand we exclusively use Non GMO, high monounsaturated safflower and/or sunflower and/or canola oil to make Kettle Brand® products.
What is high monounsaturated oil?
'High monounsaturated' refers to the makeup of the oil itself, or what is known as the 'fatty acid profile.' The fatty acid profile of an oil is the ratio of the three kinds of fat that all edible oils contain: saturated, polyunsaturated and monounsaturated. Oils from different sources have different fatty acid profiles. For example, the fatty acid profile of cottonseed oil is very different from olive oil. The oil that we use exclusively for all Kettle Brand® products is specifically Non GMO 'high monounsaturated' safflower and/or sunflower and/or canola oil or olive oil. Its fatty acid profile is naturally very high in monounsaturated fat, much higher than the bottled safflower, canola or sunflower oil commonly found on supermarket shelves that does not carry the specific designation 'high monounsaturated.'
Are your products dairy free?
Our products are processed on equipment shared with ingredients that contain very small amounts of dairy. We thoroughly clean our lines after each flavor run, but there is a slight potential of cross contamination.
Do you use MSG in your products?
No, we do not use MSG in any of our products or in any of the ingredients in our products. Some ingredients we use, like tomato powder and yeast extract, are naturally high in amino acids including naturally occurring glutamic acid which is a component of MSG. People who have severe sensitivities to MSG may want to consider moderation in eating food with these ingredients.
Why don't you make organic flavors for all of your potato chips?
Our organic select potatoes used to make Kettle Brand® Organic Potato Chips, are available to us for only a few months of the year. With these potatoes, we maintain a year-round offering of several varieties of Kettle Brand® Organic Potato Chips. At this time, we have no organic offerings for Kettle Brand® 40% Less Fat Potato Chips or Kettle Brand® Baked.
Are your products GMO free?
Kettle Brand® has been using all-natural, Non-GMO ingredients since our founding in 1978. We reached out to a third party in 2009, the Non-GMO Project, to verify our products and give our consumers extra reassurance of the steps we take to ensure ingredients with integrity. Kettle Brand® is the first potato chip to be verified as using Non-GMO ingredients by the Non-GMO Project. Many of our potato chip and popcorn flavors are now verified by the Non-GMO Project. We are committed to and working towards the verification by the Non-GMO Project of all of our products. Click here for more information about our Non-GMO Project-verified products.
Are your products Kosher certified?
Yes, all Kettle Brand® products are certified Kosher.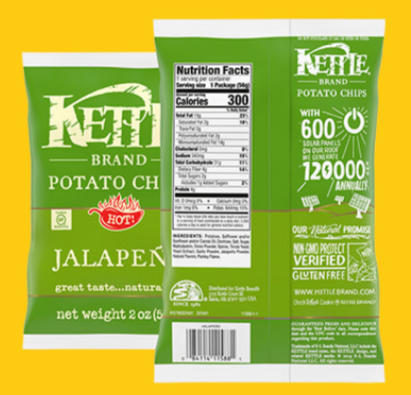 Looking for product details or nutritional information?